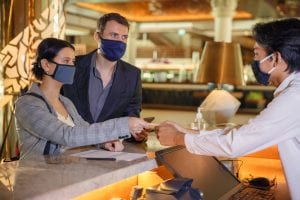 What is the Hotel and Casino Employee Safety Act? Let's start with the basics
There was an average of 7,840 violent crimes per year in hotels or motels between 2004 and 2008, according to the Bureau of Justice Statistics. Legislation is being pushed in many states for greater protection against workplace violence for hotel staff. Hotel registration staff, maids, and maintenance people often work alone, thus exposing them to situations where they are vulnerable to sexual assault or other workplace violence, either from guests, fellow employees, or even domestic partners.
There are numerous benefits to implementing a safety program for your staff, including:
Avoid receiving a citation for non-compliance
Avoid the bad publicity if you receive a citation, or worse if an employee becomes a victim.
Improve safety, security, and employee morale which may also increase retention.
Show guests that you care about your staff and will go above and beyond to protect them.
Compliance with Section 5(a)(1) of the OSHA General Duty Clause
HOTEL AND CASINO EMPLOYEE SAFETY ACT
In August 2019, the State of Illinois passed the Hotel and Casino Employee Safety Act which provides new guidelines to help prevent sexual harassment of hospitality industry workers.  The law, which was supposed to take effect on July 1, 2020, was extended to March 1, 2021. The law requires hotel and casino management to:
Provide panic buttons to hotel and casino workers who must enter guest rooms or restrooms alone, so they can summon help from hotel security and/or management if they feel threatened or their safety is being compromised
Develop and make public anti-sexual harassment policies
Prohibit hotel employers from retaliating against hotel workers who report sexual harassment
Provide all employees with a copy of the policy and post it in conspicuous places within the hotel
At Midwest Integrated Solutions, our staff is experienced in policy writing, training, and reporting.  And, as a value-added service, our sister company, Sorensen, Wilder & Associates offers a complete line of vulnerability assessments, hazard assessments, workplace violence prevention programs and training, and much more.  Clearly, Midwest Integrated Solutions can be your One-Stop-Shop for everything you need.
Additionally, Midwest Integrated Solutions has partnered with TraknProtect to provide a cost-effective solution to this issue. TraknProtect offers high-precision, affordable wireless panic button systems to hotels, motels, resorts, and other hospitality industry customers. Their technology combines radio frequency transmissions with ultrasonic transmissions to create a system that is reliable, dependable, and accurate.