Most integrators settle for traditional copper cabling and that means so does the average building owner.
Don't settle. Fiber was designed for demanding audio-visual and network installations, and it will ensure
your system's performance for years to come.
Why fiber?
Fiber improves system reliability with a lower cost of ownership. Fiber is immune to lightning strikes, static electricity, power surges and interference and fiber-based installations can easily be serviced in the field.
Fiber supports the latest video equipment. Today's cutting-edge technology supports 8K video and copper simply can't handle the bandwidth. Whether you're upgrading today or tomorrow, you need fiber for native Ultra HD video.
Fiber improves network speeds. Forget slow internet, buffering and dropouts. Fiber allows virtually unlimited network bandwidth and upgrades without pulling new cable.
Fiber supports long cable runs. Traditional twisted pair cables max out at 330 feet, and the longer the cable length the slower the signal speed. Fiber transmits thousands of feet with no degradation of signal performance.
The growing number of connected devices per household demands a faster cable infrastructure.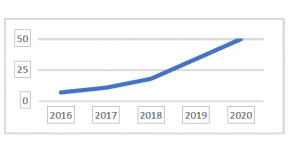 Failing to install fiber means compromised system performance and additional material and labor cost tomorrow.
To learn more about systems that are compatible with fiber, click here!